What I Ate Wednesday
It's been a while since I wrote a What I Ate Wednesday post so I thought it was time for another one.
The winter has not been kind to my waistline.  My jeans are a bit too snug for comfort so I have really been trying to watch what I eat.  Recording everything I eat to share with you guys certainly helps with that
I have really been working on getting back into a regular exercise routine as well.  I have a 10K planned for the beginning of June and a half marathon for the end of Sept so I have gotten back into running 3-4 times a week.  I have also been trying to do cross-training (usually in the form of a Jillian Michaels DVD) 3 times a week.  I really need to work on the core strength after 3 babies!
Here is Tuesday's day of eats:
Breakfast:
Oatmeal with unsweetened almond milk, berries (from frozen) and a spoonful of PB.  I am completely out of Flaxseed
 and Chia Seeds
Lunch:
A yummy smashed chickpea and avocado sandwich with cucumber, tomato, and spinach.
Dinner:
Black bean and potato nacho plate
I loved this dinner.  It will definitely be on our menu again!
Snacks:
I made some oatmeal cookies from The Happy Herbivore Cookbook

And of course I had to sample one.
Unpictured Snack:  Smoothie
While Little Man was napping and G was playing I did Jillian Michaels Ripped in 30
 which kicked my butt!
After the workout I treated myself to a chocolate banana date smoothie. I used unsweetened almond milk, cocoa powder, frozen bananas, and dates. Delicious! I was going to add some spinach but forgot.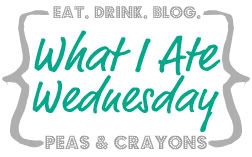 This post contains some affiliate links.
Never Miss A Recipe!