What I Ate Wednesday
We had snow days Monday and Tuesday this week.  Now, it's in the 50s.  Crazy Michigan!  L was excited for the snow day on Monday because it meant she got to stay home and play with the new things she got for her birthday.  By Tuesday the kids were getting a bit tired of being cooped up in the house so we met up with some friends for a play date at the mall.
Here's my eats from yesterday:
Breakfast:  Oatmeal with strawberries, a spoonful of PB, and chia seeds.  1/2 grapefruit
Snack:  1/2 Kashi granola bar and apple
Lunch:  Salad with spoonful of hummus
Snack:  Chocolate chip cookie
Dinner:  Forgot to take a picture but we had Cornmeal Crusted Eggplant again with pasta, and sides of roasted cauliflower and sauteed spinach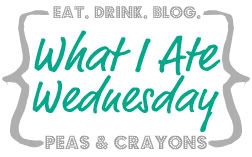 Never Miss A Recipe!