What I Ate Wednesday
Did you stay up late watching election coverage?  I stayed up a little later than usual but mostly because I went for a late run so wasn't tired as early as usual.  I am not going to get political at all here and say whether I am glad with the results or not.  I will only say that I am glad that God is the ultimate Ruler and King.
Yesterday the kids and I went out and voted and then went to the grocery store.  While at the grocery store, an elderly lady asked G, my 3 year old, if she was mommy's helper.  G's reply:  "No, I'm her kid."
And now what I ate yesterday
Breakfast:  Oatmeal, of course.  This time with apples, cinnamon, flax seed, and almond milk.  And some toast with PB and honey
We were out voting and getting groceries so missed morning snack time (the kids had a granola bar)
Lunch:  Leftover pumpkin chili (recipe tomorrow) with some guacamole and chips.   Side note on guacamole.  We had a little health talk at church last weekend and the speaker mentioned that avocados are good for hormone regulation.  She said that if you are feeling edgy, eat an avocado.  Sounds like a good reason to eat more guacamole to me!
Snack:  Chocolate chip cookies (I ate 2)  I used this recipe and they were delicious!  Definitely wouldn't know that they are whole wheat or vegan.  I also had an apple for a snack.  To balance the cookies
Dinner:  Honey sesame tofu with steamed broccoli.  I used Julie's recipe but swapped out tofu that I pressed and then browned in the skillet before putting it in the crockpot.  Delicious!
There was also a snack of some Kettle chips while watching TV and writing this post.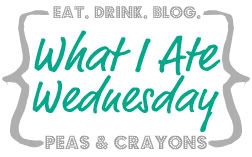 Never Miss A Recipe!