What I Ate Wednesday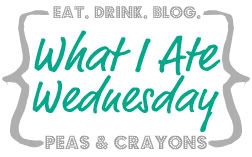 For some reason this week seems to be dragging on. Like I feel like it should be Friday but it is only Wednesday. Isn't it strange how some weeks go so fast and others move along at snail's pace?  Maybe it's because I'm so excited about the weekend.  Sunday is my half marathon in Grand Rapids!  I will admit that I have slacked off  a bit the past couple of weeks but I still feel like I can run a good race. My first half, which I ran 2 years ago, in did in 2:04.  I'm hoping to beat that time and come in under 2 hours.  I'll let you know on Monday!  (Sooner if you follow me on
Facebook
or Instagram -username thriftyveggiemama!)
Anyway, here's what I ate yesterday.
Breakfast:  The usual oatmeal with PB and banana.  I did get a little crazy and mixed in some cocoa nibs this morning.
Snack 1:  A "green" smoothie with banana, spinach, and frozen mixed berries
Lunch:  Leftover tater tot casserole and a salad.  The tater tot casserole was made with homemade vegan cream of mushroom soup, mixed veggies, and chickpeas.
Snack 2: Coconut chai tea and some un-pictured pita chips
Dinner:  Sloppy joes, steak fries, and corn.  Not the most nutritious dinner I know.  Sometimes that's just the way it goes:)
I finally bought some canned pumpkin at the store.  What is your favorite thing to use pumpkin for?
Never Miss A Recipe!