What I Ate Wednesday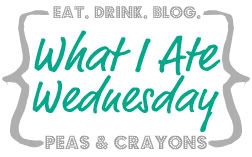 Another Wednesday! How is your week going so far? I really can't believe it is Wednesday already. It always sneaks up on me and I realize I forgot to take pictures of my meals for WIAW.
Today I am excited to watch the new Bravo show Around The World In 80 Plates. I love Top Chef and Amazing Race and this show sounds like a combination of both. I only wish it wasn't on at 10pm. That is usually my bedtime! And we are to cheap to have DVR yet.
Anyway, on to what I ate yesterday. My eating looks pretty sparse yesterday but there was some snacking on fruit that I forgot to take a picture of. We were out grocery shopping all morning. I've decided to do a big monthly grocery shopping trip and then weekly buy produce. We'll see how it works out. Yesterday we hit up Whole Foods, Trader Joes, and Meijer. The kids were great! The girls love Trader Joes because they have little kid sized shopping carts that they get to push. I'm not sure if the TJ patrons are big fans though.
I got a little crazy with my photo collage today. It hides the bad pictures I took!
Breakfast was overnight oats with bananas and strawberries.  Lunch was leftover fajitas made with Soy Curls.
Dinner was pasta with a veggie filled sauce and a side salad.
Are you a weekly grocery shopper?
Never Miss A Recipe!