What I Ate Wednesday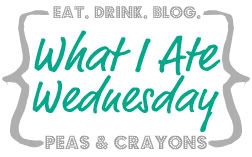 It's such a disappointment when you realize that you are actually a day ahead in your week.  Like I thought yesterday was Wednesday for about half of the day.  And then panicked when I realized I had not done my WIAW post.  But then realized that it was actually only Tuesday and then I was disappointed.  But then was glad again when I thought about the fact that that means there is 3 days instead of 2 days until my Little Man turns 1.  And an extra day for big party prep as we have a double birthday party this weekend.  Little Man turns 1 on Friday and G turns 3 on Sunday.  We'll try and get away with the double birthday parties for as long as possible.  It might be fun to have battling themes like  princesses being chased by ferocious dinosaurs.
Anyway, since today is actually Wednesday here's another day of delicious eats from the TVM household.  It was a little short on the snacks which I missed.  Definitely need to plan snacks a little better.
Breakfast was overnight oats with berries and soymilk.
Lunch was a sandwich with hummus, cucumber, and tomato. And a side of spinach because I had a hankerin' for some greens.
There was a snack in there of a handful of almonds and a granola bar.  Recipe for the granola bar coming tomorrow.
Dinner was a blackened tempeh caesar wrap with some carrots.  Yummy!  Hubby was gone for the evening so the kids got pancakes and scrambled eggs.  Oh, and a So Delicious ice cream sandwich for dessert.
Happy Wednesday!
Never Miss A Recipe!