What I Ate Wednesday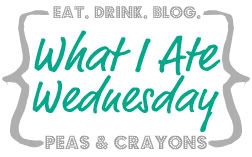 So I have been in a bit of a food blogging funk lately.  We've been eating lots of good stuff, some of it I didn't feel "blog worthy"  and some of it I just take the time to get pictures of .  We have been having beautiful summer like weather the past week which means lots of outside time.  And dinner gets later.  Then by the time we eat it's a mad rush to get the dinner on the table.  The kiddos aren't very patient with waiting for dinner while mommy takes pictures!
I'll be back soon with some new recipes, great information, and other fun stuff.  But for today, it's time for another What I Ate Wednesday.  Here's what I ate yesterday.
Breakfast was an unpictured bowl of my usual Uncle Sam and Grape Nuts cereal mix with bananas and almond milk.
Snack was a piece of toast with some almond butter.  Another snack ( I think this was actually in the afternoon.) was two peanut butter balls from Gina's recipe and a pear. Ok, throughout the course of the day I may have had more than 2 of those little balls of deliciousness.
Lunch was leftover tostadas (this recipe but minus the burger layer) with some leftover Mexican Lime soup from The Engine 2
 book.
Another snack was some hummus with some crackers.  From a pink princess bowl of course!
Dinner was very quick as I had to take L to her Adventurer club meeting at church (kinda like girl/boy scouts).  I cooked up some whole wheat gnocchi, added a little fresh spinach at the end of the cooking time.  Topped it all with some Trader Joes organic spaghetti sauce with mushrooms.  Yes, the one from a jar.  Added a side of steamed peas and some homemade bread to soak up the sauce.  Great for a quick and easy meal.
Hubby got home after we were already out the door so we didn't eat dinner together.  He said "good 'nookie' for dinner."  Hmmm…he has some explaining to do.
Never Miss A Recipe!